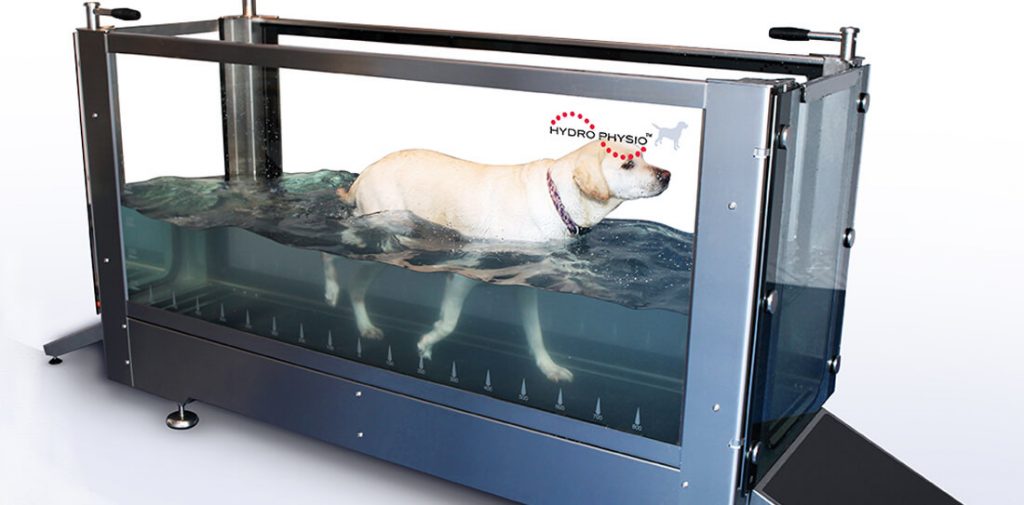 Hydrotherapy is the use of water to provide treatment to a patient and has been used to treat people for thousands of years. In recent years the benefits have been transferred to animals by using a variety of facilities from power-showers to swimming pools to more recently, treadmills.
The short-term benefits of hydrotherapy include reducing pain, reduction of swelling in limbs, improving heart function, increasing sensory perception, the relaxation of muscle tension and spasm and an increase in the active range of motion through increased flexion and extension of the limbs.
For patients recovering from injury or surgery, the long-term benefits of hydrotherapy include an increase in joint range of movement, increased muscle strength, decreased pain and inflammation, the earlier return to normal function and the slowing of progression of degenerative disease processes with an improvement in the quality of life. The system can be used for exercise for performance animals and also as an aid to weight control.
Isabelle Vets has decided to invest in a HydrophysioTM unit which is generally agreed to be the best water treadmill on the market. With a touchscreen, programmable, workstation which can record your pet's sessions the Hydrotherapist will design a program specific to your animal's needs. The glass-sided system is extra-large allowing for animals from Chihuahuas to Great Danes to be accommodated. The water is pre-warmed to 28-29°C and filtered to maximise comfort, hygiene and to stimulate activity and blood flow. The moving belt system has variable speeds and a unique 'gradient' facility. The glass sides allow your pet to interact with you. We want you involved! By varying the depth of water your pet can have traction, floatation (they get life-jackets!) or more often a combination of both.
Our Highly Trained Veterinary Hydrotherapy Team
The Hydrophysio unit has side platforms which allow the hydrotherapists to usually be in the water treadmill which is vital for health and safety but also allows them to be hands-on with the patient by providing support on joints if needed and correcting an incorrect gait. Our dedicated treatment room has a mirrored wall allowing the hydrotherapist to watch and assess the gait of your pet and build a program best suit.
Hydrotherapy has many significant and proven benefits:
Rehabilitation after surgery or injury whether it be orthopaedic or neurological.
To stimulate muscle and joint function with reduced pain in old pets
Weight control and cardiovascular improvement.
Performance animal training
We would advise you to discuss with your vet whether your dog would benefit from hydrotherapy
We are always happy to take referrals from other practices, as we feel this benefits our community, not just our clients.
What do you need to do on the day?
Our reception team will provide you with all of the details that you will require from the time of arrival, what you need to bring, how long the session will last and post-therapy care. We are very keen for owners to be fully involved in each of the sessions to see how much your pet will benefit from this form of therapy.