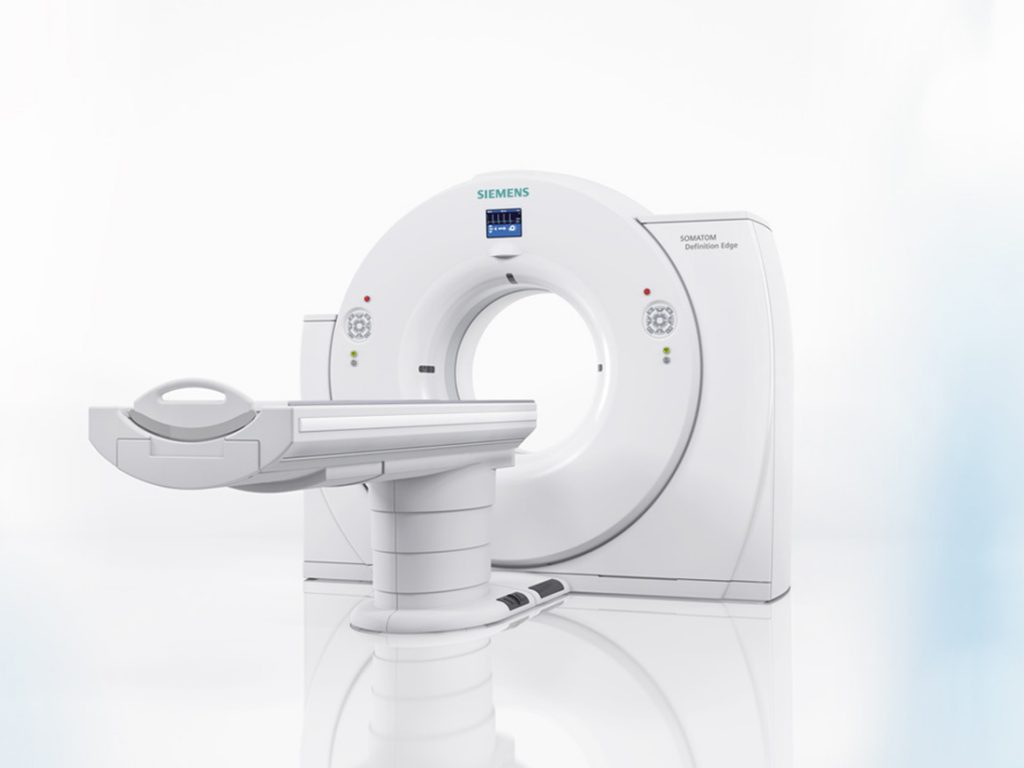 Computed tomography (CT) is a form of x-ray which allows a fan of x-rays to be sent through the patient in thin slices and be picked up by multiple detectors on the other side of the patient. A computer then takes this information and forms a three-dimensional picture of the anatomy which has been scanned.
The addition of a third dimension of image, gives the clinician a huge amount more information than a standard 2-D x-ray. It allows the soft tissue structures of the body to be visualised and highlighted in a way never before possible with normal x-rays and it allows the bones of the skeleton to be seen in 3 dimensions which is incredibly useful for the diagnosis of complex fractures and developmental disease, but it also allows the surgeon, to see and rotate the actual fractured bones which he or she needs to repair and this enormously aids the planning and implant choice for fracture work.
Cancer screening and looking for metastatic disease is possible now with C.T. like never before. Abnormal anatomy and obstructions can be seen as actual shapes on a C.T. scan rather than just as flat 2D shades of grey shadows in a normal x-ray.
C.T. is carried out with your pet either sedated or anaesthetised in order to keep them still for the test. They are placed on a moving table which travels through a rotating doughnut structure which houses the x-ray machine. Your pet is closely monitored with the help of advanced monitoring equipment during this process. Often a special dye called 'contrast' is injected intravenously to help highlight the soft tissues being scanned and provide more detailed information about their makeup.
The test is completed in minutes and your pet can come back home the same day.
Our CT Scanning Team
The information obtained is fed to a central computer in a control room adjacent to the scanner and the operator then looks at the pictures and 'reconstructs' your pet's anatomy into a 3D image with the help of a very special computer programme. The completed 3D views of your pet will then be available for you to view on dedicated i-Mac computers in the surgery.
Isabelle Vets has been working closely with some of the UK's leading veterinary radiologists and our vets have been undergoing intensive training with these experts to be able to bring this amazing advancement in veterinary diagnostic imaging to our patients.
Does your Pet need a CT?
Discuss this with your own vet. Many areas of the body cannot be assessed by more conventional means such as routine radiography and ultrasonography. As an anaesthetic may be required a full examination will be requested prior to any procedure.
We are always happy to take referrals from other practices, as we feel this benefits our community, not just our clients.
What do you need to do on the day?
Our reception team will provide you with all of the details that you will require from the time of arrival, feeding requirements, collection time, etc. Your pet will be in good hands and monitored carefully throughout the procedure.