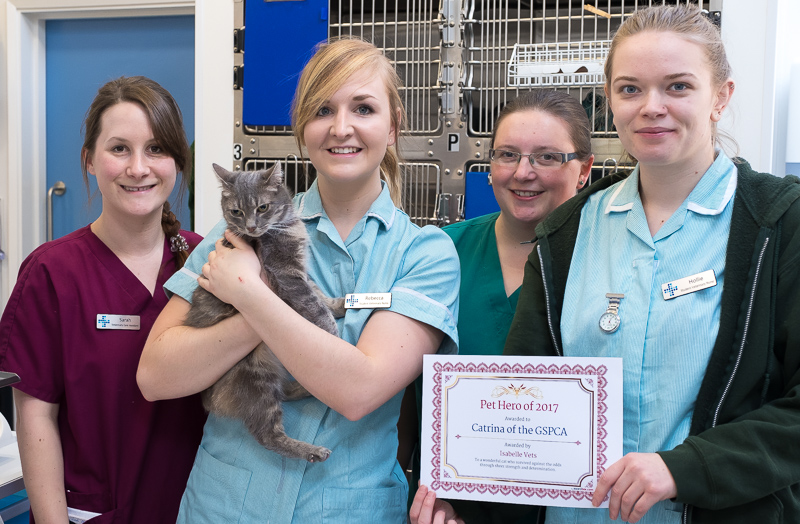 Our Pet Hero for 2017 
We are pleased to announce the winner of the Isabelle Vets Pet Hero competition, Catrina the tabby cat, as voted for by the general public. All of the nominated finalists were 'Heros' in their own right, with over five hundred people voting for their chosen hero in a closely-run competition. On a small Island such as Guernsey, this truly shows the kindness and enthusiasm of people, in taking the time to recognise the bravery of all of these stoic pets.
Catrina, a rescue cat brought in by the GSPCA, had suffered a terrible road traffic accident, with dreadful tail and rear end injuries that required the amputation of her tail, long-term treatment for the multiple pelvic fractures she suffered and an even longer recovery time for the major skin injuries. We are extremely pleased to report that the eventual outcome has been a happy one for Catrina. She has since been re-homed with a loving family and has turned into a healthy, slightly naughty and mischievous cat, occasionally climbing the curtains and running over the couch. You would never believe that she had suffered such an ordeal until you notice the scarring over her pelvis.
Her new owner has most generously chosen to donate Catrina's £300 prize to the GSPCA, where, after her initial treatment and nursing care with Isabelle Vets, Catrina spent many weeks recuperating at the 'Shelter'. Without the GSPCA support and care, Catrina may not have ultimately survived.
We also want to congratulate one lucky voter, Louise Brun, who has won a secondary prize of £150 worth of supplies or veterinary services from Isabelle Vets.
All that is left to say is, congratulations to Catrina, we hope she has a wonderful life in her new loving home.