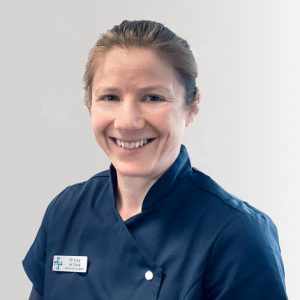 Lucy le Cocq comes from a well-known local farming family and has had animals of all descriptions around her throughout her life. Educated in Guernsey, she undertook a primary degree in Animal Science at Imperial College, London and then went to Glasgow University to study veterinary medicine, qualifying in 2010. Her first 18 months of mixed practice was spent looking after a variety of animals in Rural East Devon, including many working dogs, horses, cattle and sheep. Following this, she pursued her interest in farm animal medicine developed from her life on a farm in Guernsey.  After five years in production animal practice, both in the UK and New Zealand, she has returned to her roots as a Guernsey girl. Her passion is for sustainable and efficient farming systems through proactive herd/flock health planning and preventative medicine.
Lucy has experience in herd level disease control, fertility work including scanning, as well as enjoying everyday farm cases. This variety of practice has resulted in a key interest in 'One Health', the interface between humans, animals and the environment: the role each play in infectious disease is key to this area in all aspects of mixed practice, especially given the close bond between humans and pets which is enjoyed today.
Lucy previously worked at Isabelle Vets through the summer of 2016, enjoying all aspects of veterinary medicine and surgery. Lucy is a competitive triathlete and regularly competes in the UK.